MHub CRM uses the email parser tool to extract data and generate leads from PropertyGuru inquiry emails.
When you link your PropertyGuru inquiries, you are able to:
Automate lead generation from PropertyGuru emails to MHub CRM

Set up a campaign and see insights like submission and budget spent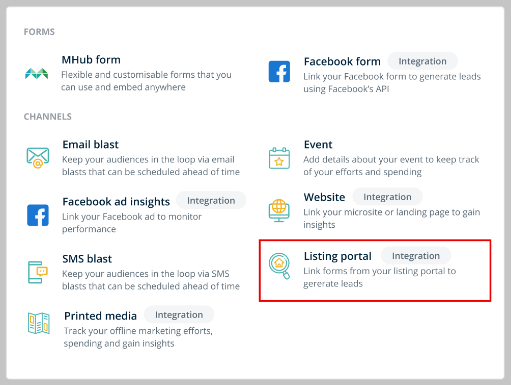 ▼

 Before setting up the PropertyGuru listing portal campaign channel
- make sure the project name in PropertyGuru is the same in Showroom.
- make sure the allocated email address (eg. propertyguru.xxx@leads.mhub.my)
  is added to the recipient list of your PropertyGuru enquiry emails.
To set up a campaign channel:
Go to

Campaigns

Choose an existing one or set up a new campaign

Click

New
Choose Listing portal integration

Select

PropertyGuru

for Listing portal name

Fill up

Project name

Fill up Total budget (optional)

Fill up Total spent (optional)

Click

Confirm
What's next?
You may want to configure the auto-assignment rule for sales persons to attend to these new leads immediately. Read more about auto-assignment.
FAQ
1. Why were the PropertyGuru leads not generated in MHub CRM?
Did PropertyGuru successfully set up your allocated email address in their recipient list for this project?

Is the project name in PropertyGuru exactly the same as Showroom? (e.g. uppercase and lowercase, spacing, etc.)

Did you set up a PropertyGuru campaign channel for this project?

The submission did not pass our validation criteria (refer to here)
2. What happens if the project name in Showroom is not exactly the same as PropertyGuru?

MHub CRM will not generate the submission and lead even if the PropertyGuru email reaches your allocated email inbox.