Generate leads by creating a form to capture audience interest. Submissions from MHub forms will automatically be added to the leads listing.
You may run many campaigns to market your products and promotions. Once the message is out, capturing leads and following up within the golden hour is crucial. Lead capture is made possible using forms. Submissions will turn to leads that can be assigned for salespeople to follow up on.
Create a new form
To create a new form, you first have to create a new campaign. Categorizing forms using campaigns will be helpful for you to track progress and ROI.
1. Click the Campaigns icon on the side menu bar
2. Click on any campaign in the list
3. Click on the New button on the right-hand corner

4. Select MHub Form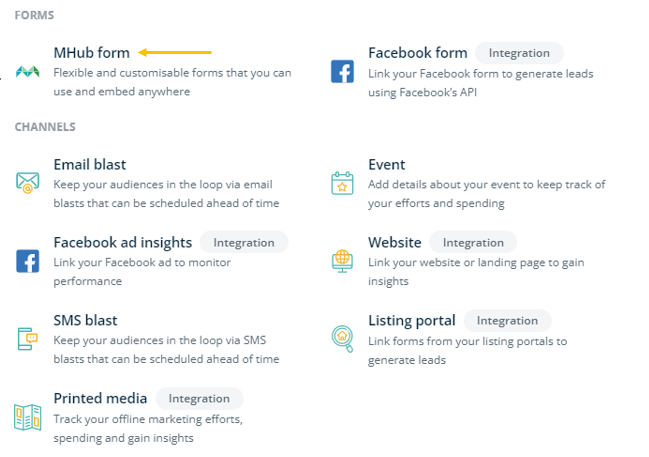 5. Choose a Form Template you want to create and key in all the necessary information accordingly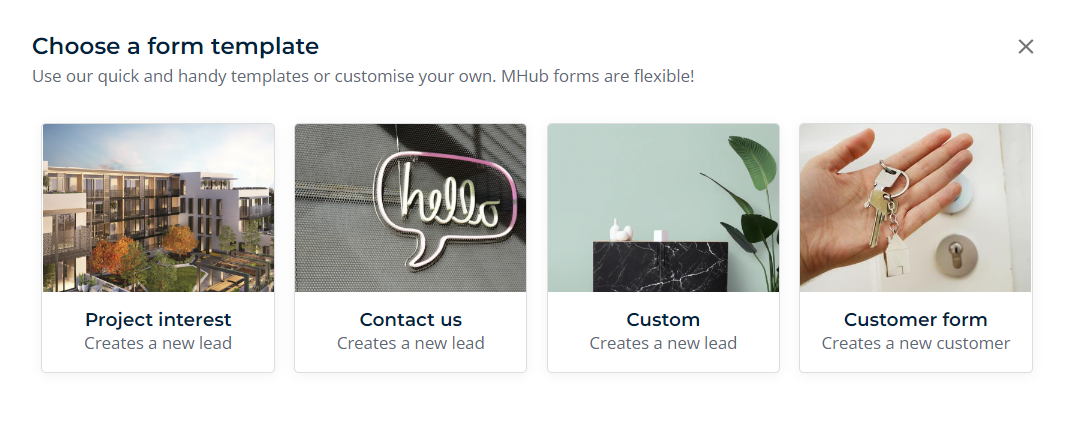 6. Click the eye icon to preview your form before saving it

7. Click Save when it's good to go!
Form information
Form name
This is the form name for internal reference
(eg. Marvelous March Promo Great City Mall Kiosk #3)
Form title
This is the form title that your audience will see
(eg. Marvelous March)
Accepting submissions


Switch on if you want to accept submissions and keep the form ON. If it is switched off, leads will not be able to submit the form



Form Description
Additional text that your audience will see
(eg. Instructions or information about your campaign)
Header image (recommended dimensions: 2160 x 750, size: maximum 5MB)
Form type

Template form
Templates and saved forms will appear here
Customised form
Start from scratch

Form fields or questions

Name, email, and mobile are compulsory fields that cannot be removed
Click + Add Field to add on your form fields or questions

Terms and conditions
You can use this section if your audience needs to agree to a set of terms and conditions upon submission
Thank You, screen
Your audience will see this screen after submission.

Customised text
You may customize the thank you text according to your liking
External link
Click on and add an external link to redirect your audience after submission
To edit or delete a form, click on the options

at the top right-hand corner of each form card. You may also adjust the toggle to accept submissions.
If you have your form on your website, use our Submissions API to integrate your form with our CRM.
View form submissions to see responses
Form sample: